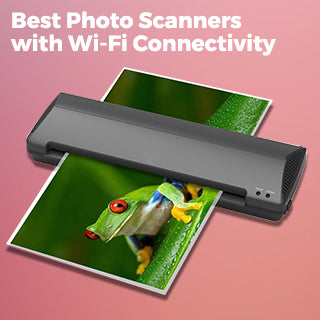 Best Photo Scanners with Wi-Fi Connectivity
Laminator Machine are the most popular way to take photos right now which makes photo scanners look like a relic from the past, photo enthusiasts and family archivists would tell you otherwise.
It is a handy tool that can help you digitize images and create backups without relying on finding a print store. Many scanners include software to retouch scans and improve image quality, making it the perfect device for photographers who prefer to shoot on film. If you want to quickly convert photos, slides, and negatives into digital format, you will need a quality photo scanner.
How to Choose the Best Photo Scanner:
It is important to do your homework before purchasing a photo scanner. Once you identify your purpose for buying a scanner, this guide will walk you through the technical aspects to consider when buying a photo scanner.
Types
High–resolution flatbed scanners are the easiest to use and common scanners available. It works like a copy machine and can scan documents, books, photos, and even magazines. Flatbed scanners are suitable for personal and commercial use as they provide high-speed and high-quality scans.
It is usually bundled with a set of adapters for scanning transparencies, slides, film, and negatives and photo enhancing and correction software.
The main object of a portable scanner is to scan text or data when you are on the go. These pocket-sized machines are perfect for business trips when you have a small number of images to scan. You can transfer the data from the scanner to the computer via a USB or a wireless connection.
Every all-in-one printer comes with a scanner. Most all-in-one printers have a high-quality scanner that can go as high as 1200 dpi. If you already have one at home, you might not need another specialized stationary scanner for your needs.
A sheet-fed scanner works similarly to flatbed scanners, but it is meant for scanning one page at a time. A document or photo is fed into the scanner's automatic document feeder (ADF), rather than being placed on top of the platen one photo or document at a time.
Sheet-fed scanners are mostly fast, portable, and come with different features for capturing and processing data.
Resolution
A scanner's resolution is defined as dots per inch (dpi). Scanners with a higher resolution can capture more details from an image than a scanner with lower resolution, resulting in high-quality scans. A scanner with 300 dpi resolution is good enough for scanning photos, but 1200 dpi or higher is recommended for exceptionally high quality.
Speed
Depending on workload, the scanner's speed might be crucial. Speed isn't that important if you use a photo scanner once or twice a day. However, if you use it for commercial purposes and need to scan photos in bulk daily, you will have to check the time it takes to scan pages per minute (ppm) and images per minute (ipm) of a scanner.
Color/Bit Depth
The bit depth of a photo scanner is the amount of detail it can capture per pixel. A scanner with a higher bit depth has a better image quality with improved details and depth of color. Scanners with 24-bit or 36-bit color depths are sufficient for producing high-quality photo scans, and some latest scanners even come with a 48-bit depth.
Software
A scanner's software is the most overlooked component despite being incredibly important. Depending on the software utilized by a photo scanner, it might have additional color calibrating, image-editing, and optical recognition (OCR) functionalities. All photo scanners are not bundled with the same software, so it is important to consider them while buying one.
Connectivity
Most scanners are compatible with data transfer via USB, but you will have to look for a photo scanner that supports WiFi if you want wireless connectivity.
This multi-functional scanner can also scan a range of other items up to 8.5 inches wide, including documents, artwork, bills, receipts, and more. Unlike most photo scanners on this list, you can upload scans to a computer via USB or directly upload them to the cloud via WiFi. It also comes with FastFoto software, making it easy to edit images quickly.
Organizations are free to choose any hardware as per their choice, requirement, and surroundings. If you want to increase the profit of your organization, you are just a Call Away from choosing the best suitable Laminator Machine and the accessories. However, if there is a particular requirement you are searching for, but can't find, contact us