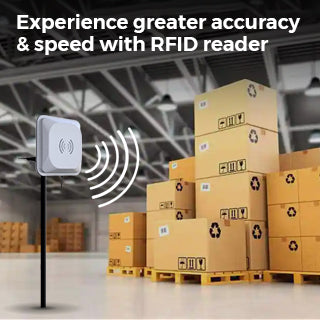 Experience greater accuracy & speed with RFID reader
In today's fast-paced business environment, accuracy and speed are crucial factors that can significantly impact productivity, efficiency, and customer satisfaction. One technology that can help businesses achieve greater accuracy and speed is an RFID (Radio Frequency Identification) reader. RFID technology has revolutionized various industries by enabling seamless tracking and identification of items. In this blog post, we will explore how an RFID reader can enhance accuracy and speed in different business scenarios.
Streamlined Inventory Management:
Accurate inventory management is vital for any business, and an RFID reader can simplify the process. By using RFID tags on products or assets, businesses can quickly and accurately track their inventory. The RFID reader can scan multiple items simultaneously, reducing the time spent on manual counting and eliminating human errors. With real-time visibility into stock levels, businesses can make informed decisions about restocking, reducing out-of-stock situations, and optimizing inventory levels.
 Efficient Asset Tracking:
Many industries rely on efficient asset tracking to monitor the movement and location of valuable items. Whether it's equipment in a healthcare facility or tools in a manufacturing plant, an RFID reader can greatly enhance asset tracking accuracy and speed. By affixing RFID tags to assets, businesses can use an RFID reader to locate and identify items in real-time, even in large or complex environments. This eliminates the need for time-consuming manual searches, reduces loss or theft, and improves asset utilization.
 Enhanced Supply Chain Management:
RFID technology has transformed supply chain management by providing accurate and real-time visibility into the movement of goods. With an RFID reader, businesses can track shipments, monitor inventory levels at different stages, and ensure timely delivery. The speed and accuracy of RFID readers enable businesses to streamline processes such as receiving, order fulfillment, and shipping, reducing errors and delays. This, in turn, improves customer satisfaction and strengthens business relationships.
Quick and Secure Access Control:
Security is a top priority for many businesses, and an RFID reader can enhance access control systems. Instead of traditional keys or swipe cards, RFID-enabled access control systems use RFID cards or badges. The RFID reader quickly scans the card, granting authorized personnel swift and secure access to designated areas. This eliminates the need for manual checks, prevents unauthorized entry, and enhances overall security measures.
Efficient Event Management:
In event management, managing large crowds and ensuring smooth entry and exit can be challenging. RFID readers can simplify these tasks by enabling fast and accurate identification of attendees. With RFID wristbands or badges, event organizers can quickly scan and validate tickets, grant access to different areas, and track attendance. This streamlines the entry process, reduces queues, and enhances overall event experience.
Conclusion:
Incorporating an RFID reader into your business operations can bring significant improvements in accuracy and speed across various scenarios. From inventory management and asset tracking to supply chain management, access control, and event management, RFID technology offers enhanced efficiency, reduced errors, and improved customer satisfaction. By embracing RFID technology, businesses can stay competitive in today's fast-paced world and unlock new opportunities for growth and success.