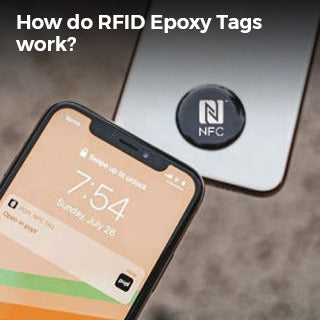 How do RFID Epoxy Tags Work?
In recent years, radio-frequency identification (RFID) technology has gained popularity in various industries, including logistics, retail, healthcare, and more. RFID epoxy tags, in particular, are a type of RFID tag that has an epoxy coating, making them durable and long-lasting. In this blog, we'll discuss the basics of RFID epoxy tags and their uses.
RFID Epoxy tags are also highly customizable. Businesses can choose from a variety of sizes, shapes, and colors to create tags that match their branding and marketing needs. This allows them to use the tags not just for inventory management but also for promotional purposes.
RFID Epoxy tags are also cost-effective. While the initial investment in RFID technology can be higher than traditional inventory management systems, the long-term benefits can outweigh the costs. By reducing the time and labor required for inventory management and improving accuracy, RFID Epoxy tags can help businesses to save money over time.
What are RFID Epoxy Tags?
RFID epoxy tags are small, rectangular-shaped tags that use radio waves to communicate with RFID readers. They are commonly used in asset tracking, inventory management, and access control systems. The epoxy coating provides extra protection and makes the tags resistant to water, dust, and other environmental factors. This feature makes them ideal for use in harsh environments, such as outdoor settings or manufacturing facilities.
How do RFID Epoxy Tags work?
RFID epoxy tags contain an integrated circuit (IC) chip and an antenna, which work together to send and receive radio signals. When an RFID reader sends out a signal, the tag's antenna picks it up and sends a response back to the reader with the tag's unique identification number. This process happens in a matter of seconds and allows for quick and accurate data collection.
What are the uses of RFID Epoxy Tags?
Asset tracking: RFID epoxy tags are commonly used to track assets in manufacturing plants, warehouses, and other industries. The tags can be attached to equipment, tools, or other assets, allowing for real-time tracking and inventory management.
Access control: RFID epoxy tags can also be used for access control systems, such as in hospitals, schools, and other facilities. The tags can be programmed to grant or restrict access to certain areas, ensuring security and safety.
Retail: Retail stores can use RFID epoxy tags to track inventory and prevent theft. The tags can be attached to products, allowing for easy tracking and monitoring.
Parking: RFID epoxy tags can also be used in parking systems, allowing for automatic entry and exit of vehicles.
Conclusion
RFID epoxy tags are an effective and durable solution for asset tracking, access control, and inventory management. They provide real-time data collection and are resistant to harsh environmental conditions. With their many uses and benefits, RFID epoxy tags are becoming increasingly popular across various industries.