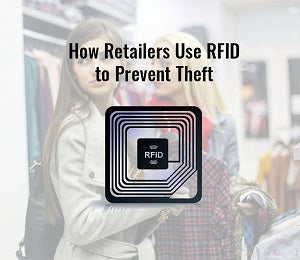 How Retailers Use RFID to Prevent Theft?
In today's economic circumstances, retailers are facing difficulties. Compared with e-commerce companies, highly competitive product pricing, unreliable supply chains, and rising management costs put retailers under huge pressure.
In addition, retailers need to reduce the danger of store theft and employee fraud at every step of their operations. In order to effectively deal with such difficulties, many retailers are using RFID to prevent theft and reduce management errors.
According to the National Retail Fund (NRF), American retailers lose more than $60 billion in income each year because of theft and employee fraud. NRF additionally found that retailers face stock shrinkage of up to 1.6% consistently. Using RFID to prevent theft and fraud and combat counterfeit products is one of the best ways for retailers to tackle the expanding rate of theft.
RFID technology permits companies to know where in their process any specific asset is, so they can monitor the speed of production, the time of delivery, or whatever other factor that will help them to see how long their processes actually take—and control assets by knowing where they are at any point in time. 
Why use RFID to prevent theft and reduce retail costs
Nowadays, the retail industry is becoming more and more complex in terms of processes and technology adoption. Retail companies now need modern technology to ensure the bottom line of issues such as asset protection, loss prevention, and information security. It is estimated that 66% of the retail industry's annual losses are caused by inventory losses and worker robbery.
Retailers are also utilizing RFID technology to follow the advanced direction and improve the management of every step in their inventory management and consumer fulfillment business. The commodity-level RFID system improves inventory accuracy and process tracking while allowing retailers to effectively investigate and manage problems.
Use RFID to accurately track the data review process
Compared with other technologies such as barcodes, RFID chip technology can store explicit data at different stages of the label. Companies can add timeline nodes for products arriving at specific locations, track the time between destinations, and record who has accessed the product or inventory at each step of the entire supply chain. Once the product is lost, the company can find the person who visited the batch, review the upstream process and accurately identify where the item was lost.
RFID sensors can also measure other factors in transportation, such as recording item impact damage and transportation time, as well as the exact location in the warehouse or store. Such inventory checking and audit trails can help reduce retail losses in weeks instead of years, thereby providing an immediate return on investment.  The administration can call up the total authentic record of anything in the whole store network, and give help when the organization researches missing things.
Conclusion:
The introduction of RFID in retail has the demonstrated potential to positively affect all brick-and-mortar stores. Not exclusively does the evidence prove an increase in stock control and a reduction in costs, but it is additionally opening the door for other innovative uses. Which will take the overall shopping experience to a new level.
An RFID tracking system would effectively be able to 'see' what the shopper has in their basket, without the need for examining it.