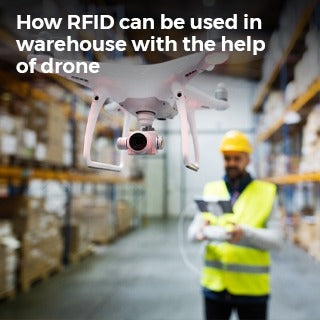 How RFID can be Used in Warehouse with the Help of the Drone
Radio Frequency Identification (RFID) is a technology that has been in use for many years. It is commonly used in industries like manufacturing, logistics, and retail to track and manage inventory. With the recent advancement in drone technology, RFID can now be used in warehouses to improve the efficiency of inventory management.
In this blog, we will discuss how RFID can be used in warehouses with the help of drones.
What is RFID?
RFID is a technology that uses radio waves to identify and track objects. It consists of a tag that is attached to an object and a reader that can communicate with the tag. The reader sends a signal to the tag, which then responds with its unique identification number. This identification number can be used to track the object's location and other relevant information.
How RFID can be used in warehouse management?
RFID can be used in warehouse management to track inventory and improve efficiency. The technology can help automate processes that were previously done manually, such as counting inventory and tracking the movement of goods.
Drones can be used in conjunction with RFID to automate the process of inventory management. Here's how it works:
RFID tags are attached to each item in the warehouse.
A drone equipped with an RFID reader flies over the warehouse and scans the tags.
The information collected by the drone is transmitted to a central system, where it is used to update inventory records.
The system can then generate reports and alerts based on the inventory data collected.
Benefits of using RFID and drones in warehouse management:
Improved accuracy: RFID tags are more accurate than manual methods of inventory tracking. When combined with drones, the system can quickly and accurately scan inventory and update records.
Increased efficiency: By automating the inventory management process, warehouses can increase efficiency and reduce the time and cost associated with manual inventory counts.
Real-time visibility: With RFID and drone technology, inventory information can be updated in real-time. This means that warehouses can have better visibility into their inventory and make informed decisions based on accurate and up-to-date data.
Reduced errors: The use of RFID and drones in inventory management can help reduce errors that can occur with manual processes. This can lead to improved customer satisfaction and reduced costs associated with returns and refunds.
Conclusion:
RFID technology has revolutionized inventory management in the warehouse. When combined with drone technology, it offers even greater benefits, including increased accuracy, efficiency, and real-time visibility. As the use of drones in warehouse management continues to grow, it is likely that more and more companies will adopt RFID and drone technology to improve their inventory management processes.