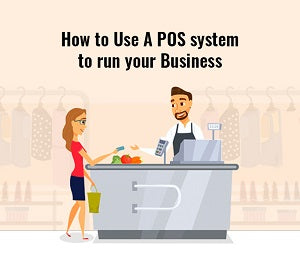 How to use POS system to run your Business
A POS system is the software and hardware businesses use to process customer orders and payments as well as manage other business operations such as employee and inventory management.
There are many advantages of purchasing a POS system, notably making it simpler to manage your retail business. A POS system can significantly simplify daily business tasks and in some cases can even be revenue-generating.
Every free retail or restaurant business, from corner stores to coffee shops, can benefit from using a point-of-sale (POS) system to oversee small business operations. POS systems do much more than log sales, add tax, and process payments. A POS can perform a slew of vital business tasks from tracking sales to managing employees. It also helps you process purchases from a growing number of sales channels, including in-store, digital from websites and social media, delivery, and buy-online-pick-up-in-store.
Today's POS systems are incredibly easy to use and come with the tools you need to keep up with customer demand for safe, customized, speedy service.
Here are some of the key features you should look for in a quality POS system. 
Inventory management
In retail, cash is king, and the biggest drain on your cash is inventory. A POS makes it easy to keep track of the inventory your store has. It permits you to manage your stock in real-time and to know the number of items you own over a given period. 
one more strength of POS systems is how easy it makes tracking inventory. You can program the software to track the number of items available and locations (if you have multiple stores) and set low-inventory alerts.
Customer relationship management
By having a POS system, it is possible to document your customers' information in your system.
It can be their name, phone number, purchases, email, and so on By having customer data, you can have a better overview of your target market, as well as customer groups
Storing customer data and purchase history helps to personalize the experience with the customer and serves as a huge plus for customer retention. At the point When you plan for advertising, this data allows you to choose the specific customers who would be interested in your sale.
Employee Management
Optimizing employee time can become complicated without tangible data. With a POS system, it can be simpler to manage your staff and optimize their schedules.
For sales performance, look at the metrics of each employee. Key selling measurements like % of sales in accessories, of items per ticket, and sales dollars per hour, help you track the productivity of your employees
Loyalty programs
Customers are picking retailers who give an incentive to be faithful to the store over stores that don't have a loyalty program. Your POS system must be able to track this for you instead of using old-fashioned punch cards. Whether or not you will require your customers to carry a physical card is up to you, but have some way to track customer loyalty incentives.
Also, check out the RFID tag and printers suitable for your retail business