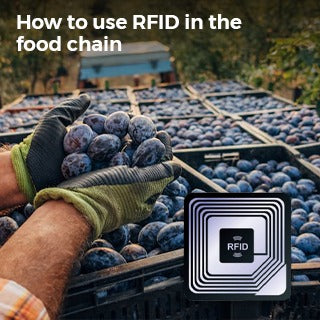 How to use RFID in the food chain
Are you curious about how your favorite foods make it from farm to table? Well, there's a lot more going on behind the scenes than you might think. One technology that is revolutionizing the food industry is RFID (Radio Frequency Identification). By using tiny electronic tags and readers, food producers and retailers can track everything from crop yields to expiration dates with unprecedented accuracy. In this post, we'll explore exactly how RFID is being used in the food industry – and why it's quickly becoming a game-changer for both producers and consumers alike. Get ready to learn all about this fascinating technology!
RFID technology can be used in various ways throughout the food chain to improve efficiency and traceability. Here are some ways to use RFID in the food chain:
Product Tracking: RFID tags can be attached to food products or packaging to track their movement through the supply chain, from production to consumption. This can help improve transparency and accountability, reduce the risk of fraud or counterfeiting, and enable faster and more targeted recalls if necessary.
Inventory Management: RFID tags can be used to track inventory levels and reduce waste. The tags can be read quickly and accurately, allowing for real-time inventory updates and timely replenishment.
Quality Control: RFID tags can be used to monitor the quality of food products and identify potential quality issues or food safety concerns. This can help ensure that food products meet regulatory standards and consumer expectations.
Temperature Monitoring: RFID tags can be used to monitor the temperature of food products during transportation and storage. This can help ensure that food is kept at the proper temperature to maintain quality and prevent spoilage.
Challenges of Implementing an RFID System:
When it comes to using RFID technology in the food industry, there are several potential challenges that need to be considered. One of the main challenges is ensuring that the RFID tags are properly affixed to food products. If the tags are not affixed correctly, they may not be able to accurately track the product throughout the supply chain. Additionally, if the tags are not read correctly, it could lead to errors in inventory management.
Another challenge that needs to be considered is how RFID will interact with other technologies that are already being used in the food industry. For example, many food companies already use barcodes for tracking and tracing purposes. There needs to be a way to integrate RFID into existing systems so that companies can take advantage of its benefits without having to replace their existing infrastructure.
Finally, it is important to consider the cost of implementing an RFID system. While the upfront costs may be significant, it is important to weigh them against the potential benefits of using RFID. When done correctly, an RFID system can provide a significant return on investment by improving efficiency and accuracy throughout the food supply chain.
Conclusion:
RFID technology has revolutionized the food industry, allowing for more efficient and accurate tracking of products throughout their life cycle. It can be used to improve efficiency in production, inventory management, order fulfilment, quality control, and product recalls. With its potential benefits far outweighing its costs and complexities, RFID is quickly becoming an important part of many food companies' operations. By taking advantage of this powerful tool to increase visibility into their supply chain process, businesses can ensure that customers are receiving safe and high-quality products every time.