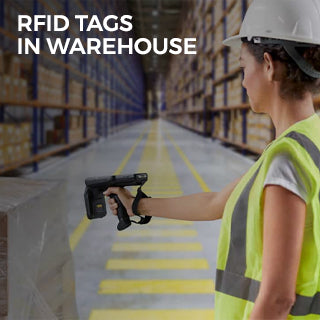 RFID Tag In Warehouse
An RFID tag (also referred to as a transponder) is an electronic device that communicates with RFID readers. An RFID tag can function as a beacon or it can be used to convey information such as an identifier.
RFID tags are used in many industries. For example, an RFID tag attached to an automobile during production can be used to track its progress through the assembly line, RFID-tagged pharmaceuticals can be tracked through warehouses, and implanting RFID microchips in livestock and pets enables positive identification of animals. Tags can also be used in shops to expedite checkout, and to prevent theft by customers and employees
Technology
An RFID tag consists of
(1) A small integrated circuit chip
(2) Attached to a miniature antennae, which is capable of transmitting a unique serial number to
(3) A mobile or stationary reader in response to a query.
(4) A fourth important part of any RFID system is the database where information about tagged objects is stored.
Every RFID tag has a unique identification number. The identification number includes not only the traditional information contained in a printed barcode (indicating manufacturer and product type), but also a unique serial number for that tag, meaning that each product or item will be uniquely identified.
Tag characteristics
The market for RFID tags includes numerous different types of tags, which differ greatly in their cost, size, performance, and security mechanisms. Even when tags are designed to comply with a particular standard, they are often further customized to meet the requirements of specific applications. Understanding the major tag characteristics can help those responsible for RFID systems identify the tag characteristics required in their environments and applications.
 Major characteristics of tags include:
Identifier format
Power source
Operating frequencies
Functionality,
Form factor.
Tags can be attached to items using an adhesive or can be embedded within the item. The primary concern when a tag is attached to an item is how easily it might be detached, whether accidentally or maliciously. Tags attached to items also are more vulnerable to harsh environmental conditions such as dust, debris, humidity, precipitation, and extreme temperatures. However, the vulnerability is intentional in some cases. For example, RFID tags known as "frangible tags" allow users to deactivate tags by tearing the tag's antenna from its circuitry. Tags that are embedded in objects (e.g., smart cards, animal tissue, plastic housing) are less vulnerable to tampering and environmental conditions.
Types of RFID Tags
 There are three types of RFID tags:
Passive : Most RFID tags are passive. They do not contain a power source and obtain the power needed to operate from the query signal itself. An RFID reader must first query a passive tag, sending electromagnetic waves that form a magnetic field when they "couple" with the antenna on the RFID tag. Consistent with any applicable authorizations authentications, and encryption, the tag will then respond to the reader, sending via radio waves the data stored on it. Currently, depending on the size of the antenna and the frequency, passive tags can be read, at least theoretically, from up to thirty feet away.

Semi-passive : A semi-passive tag, like a passive tag, does not initiate communication with readers, but they do have batteries. This onboard power is used to operate the circuitry on the chip, storing information such as ambient temperature. Semi-passive tags can be combined, for example, with sensors to create "smart dust" — tiny wireless sensors that can monitor environmental factors.

Active : Active tagscan initiate communication and typically have onboard power. They can communicate the longest distances — 100 or more feet. Currently, active tags typically cost $20 or more. A familiar application of active tags is for automatic toll payment systems that allow cars bearing active tags to use express lanes that do not require drivers to stop and pay.
RFID proponents believe that the ability of these systems to deliver precise and accurate data about tagged items will improve efficiency and bring other benefits to businesses and consumers alike. While these developments may offer significant benefits for industry and consumers, some applications have raised privacy concerns. The capacity to encode unique identifiers at the individual item level may have revolutionized thinking about inventory management, but it has also raised fears that this technology might be used to track individual products out of the store and into consumers' homes or otherwise monitor individual consumer behaviors.
RFID system components
RFID systems can be very complex, and implementations vary greatly across industries and sectors. For purposes of discussion, an RFID system is composed of up to three subsystems:
An RF subsystem, which performs identification and related transactions using wireless communication,
An enterprise subsystem, which contains computers running specialized software that can store, process, and analyze data acquired from RF subsystem transactions to make the data useful to a supported business process, and
An inter-enterprise subsystem, which connects enterprise subsystems when information needs to be shared across organizational boundaries.
Every RFID system contains an RF subsystem, and most RFID systems also contain an enterprise subsystem. The characteristics of RFID enterprise and inter-enterprise subsystems are very similar to those of any networked IT system in terms of the types of computers that reside on them, the protocols they support, and the security issues they encounter.
Security concerns
While RFID has numerous advantages over bar code technology, it also raises security concerns. Two types of risks are associated with the security of RFID tags. The first is the possibility of DoS attacks against RFID readers that would render them incapable of tracking assets and inventory or reading product prices in point-of-sale applications. Criminals might use such an attack to make readers inoperable in order to hide criminal activity.
The second and more serious type of risk involves the basic security functions associated with RFID tags and readers, such as encryption of information and authentication of RFID communication signals. Inadequate could result in unauthorized eavesdropping on communication signals, unauthorized tracking of assets, or spoofing of readers by intentionally. misleading tags. This could lead to unauthorized access to sensitive information about individuals or supply chains, price tampering, counterfeiting, theft, and other illegal activity.
Privacy concerns
Consumer advocates have voiced concerns about the potential impact of other RFID applications on consumer privacy. According to them, such concerns may arise when consumers interact more directly with tags and readers, particularly in the context of item-level tagging of retail goods.
If RFID tags were embedded in customer loyalty cards, consumers could be identified as soon as they entered the store that issued the card. This could result in targeted marketing or customer service directed at the consumer, depending on his or her purchase history or other information linked to the loyalty card.
Organizations are free to choose any hardware as per their choice, requirement, and surroundings. If you want to increase the profit of your organization, you are just a Call Away from choosing the best suitable RFID Tag and the accessories. However, if there is a particular requirement you are searching for, but can't find, contact us