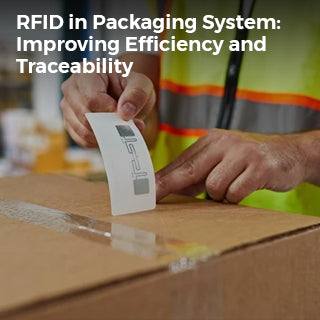 RFID in Packaging System: Improving Efficiency and Traceability
Radio-frequency identification technology has revolutionized the way we track and manage products in various industries. The packaging industry is no exception. RFID in packaging systems is gaining popularity among manufacturers and retailers due to its ability to improve efficiency and traceability. In this blog post, we will discuss how RFID technology is transforming the packaging industry and the benefits it offers.
 What is RFID in Packaging System?
RFID in packaging systems involves the use of RFID tags or labels that are attached to packaging materials, such as boxes, pallets, and containers. These tags contain a small chip and an antenna that allows them to transmit data wirelessly to an RFID reader. The reader then captures the data and sends it to a computer or cloud-based system for analysis and tracking.
How Does RFID in Packaging System Work?
RFID in packaging systems works by using electromagnetic waves to communicate between RFID tags and readers. The tags contain a unique identifier that is read by the reader, which can be either a handheld device or a fixed reader installed in a warehouse or distribution center. The data collected by the reader can be used to track the location of the package, monitor its temperature, and record any other relevant information.
Benefits of RFID in Packaging System
Improved Traceability: RFID in packaging systems provides real-time visibility of products as they move through the supply chain, enabling better traceability and accountability. This helps manufacturers and retailers to identify the source of any issues or defects and take corrective action quickly.
Efficient Inventory Management: RFID technology enables accurate and efficient inventory management by automating the process of tracking and monitoring products. This eliminates the need for manual data entry and reduces the risk of errors.
Enhanced Customer Experience: RFID in packaging systems can improve the customer experience by providing accurate and up-to-date information on the location and status of their orders. This allows customers to track their orders in real-time and receive updates on delivery times, improving their overall satisfaction.