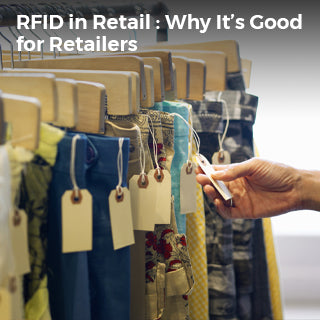 RFID in Retail : Why It's Good for Retailers
RFID (Radio Frequency Identification) technology has been gaining popularity in the retail industry over the past decade. RFID tags  are small electronic devices that can be attached to products and used to track them throughout the supply chain.
Here are some of the reasons for using RFID tags in retail stores:
Improved inventory accuracy: RFID tags can help retailers keep track of their inventory in real time, which can significantly improve inventory accuracy. Retailers can use  RFID readers  to quickly and accurately count their inventory, reducing the time and resources required for manual inventory checks.
Faster checkout: RFID tags can speed up the checkout process by allowing retailers to scan multiple items at once, rather than scanning each item individually. This can help reduce wait times for customers and improve overall customer satisfaction.
Reduced theft and loss: RFID tags can help reduce theft and loss in retail stores. If an item is removed from the store without being scanned, the RFID tag will trigger an alarm, alerting store staff to potential theft. RFID tags can also be used to track items throughout the supply chain, making it easier to identify where and when items were lost or stolen.
Better supply chain management: RFID tags can help retailers better manage their supply chain by providing real-time information on the location and status of products. This can help retailers optimize their inventory levels, reduce out-of-stock situations, and improve their overall supply chain efficiency.
Enhanced customer experience: By improving inventory accuracy, reducing wait times, and reducing theft and loss, RFID technology can help enhance the overall customer experience. Customers are more likely to return to a store that has a well-managed inventory and a fast and efficient checkout process.
In conclusion, RFID tags can provide numerous benefits to retailers, including improved inventory accuracy, faster checkout, reduced theft and loss, better supply chain management, and enhanced customer experience. As RFID technology continues to improve and become more affordable, we can expect to see more retailers adopt this technology in the coming years.