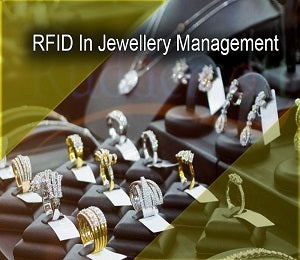 RFID Jewellery Management System – A Solution for more Security
Secure your Jewelry Store containing Precious Gold, Diamond & Platinum with RFID Jewellery Management System provided by SRK Innovation – Best RFID Solution Providers in India. No more Unsecured Feeling of losing your Valuable Assets, you can always keep an eye on each & every single item even though they are much smaller in size with the help of an RFID jewelry management system.
RFID technology helps in the management and tracking of Jewellery by reducing the risk of items being lost or lost. The adoption of RFID in jewelry tracking and stock management helped executives to save the time invested in manual stock counting. This blog gives you more information about the efficient management and tracking of jewelry with the RFID Jewelry Management System.
Placing RFID tags on individual items and readers at all exits can generate a secure environment in your store. There are two types of RFID tags, active and passive. Active tags have a longer range than their passive counterparts. Asset management and real-time location tracking use active tags due to their high scanning range. In contrast, inventory management and supply chain use passive RFID tags. Its small range is suitable for these applications. Jewellery management systems also use passive RFID tags because passive RFID tags are more secure.
Finding specific items from your inventory has never been easier. If your inventory scan shows a missing item in your stock. As the reader gets closer to the tagged item, the locate dial changes from red to green (you can also turn on the sound effect). Finding out is also great when you're looking for a specific item in your store.
Advantages of using RFID for managing and tracking Jewellery
These are some of the advantages of using the RFID for managing Jewellery and tracking systems
RFID technology allows you to keep a close eye on your inventory and jewelry assets
RFID technology provides a complete solution from the first inventory to the final sale of the item.
It makes all the difficult tasks of an object quick and accurate, and increase working condition.
This helps prevent scanning misses due to covered or soiled tags.
The use of RFID tags also increases the billing rate across the counters thereby reducing customer wait times.
you will receive continuous and regular updates regarding your inventory.
Reusable RFID tags can be used on any other item after the first one has been sold.
RFID helps in detecting unauthorized movement of jewelry, hence preventing loss or theft.
RFID Configurations for Jewellery management
There are about five main general RFID configurations used for jewelry management. Further to this, over the years we have compiled a list of recommended jewelry packaging and design that better suit an environment.
OTHER INTERESTING RFID SOLUTIONS!
RFID Visitor Management System for Every Office
RFID School attendance system
RFID canteen management system
RFID Warehouse management