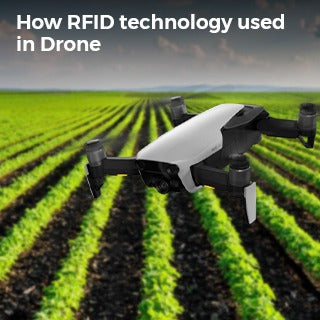 RFID Technology Use in Drone
Drones have rapidly become one of the most exciting and innovative technologies in recent years. They have been used in a variety of applications ranging from aerial photography and videography to surveying and inspection, and even in search and rescue missions. However, drones are not just limited to these areas. They have also found their way into the world of RFID (Radio Frequency Identification) technology, which is used to track and manage assets, inventory, and personnel.
RFID technology uses electromagnetic fields to automatically identify and track tags attached to objects. The tags contain electronically stored information, which can be read by an RFID reader using radio waves. This technology has been around for decades and has been used in various industries such as retail, logistics, and healthcare.
When it comes to drones, RFID technology is used to improve tracking and management of assets, inventory, and personnel in various applications. For instance, drones equipped with RFID readers can be used to locate and identify tagged assets in warehouses or manufacturing facilities. This allows for quick and accurate inventory management, reducing the need for manual scanning or counting.
In agriculture, drones equipped with RFID technology can be used to track livestock and monitor their movements. RFID tags can be attached to animals, allowing farmers to identify and track them from the air. This technology can also be used to monitor crops and assess their health, allowing for better management of irrigation and fertilization.
In the construction industry, drones equipped with RFID technology can be used to track the location and movement of materials and equipment on a job site. This helps project managers keep track of inventory and ensure that materials are being used efficiently.
One of the most significant advantages of using RFID technology in drones is the speed and accuracy of data collection. Drones can cover large areas quickly and efficiently, allowing for rapid data collection and analysis. This information can be used to make informed decisions, improve operational efficiency, and reduce costs.
In conclusion, RFID technology has enormous potential in the world of drones. As drone technology continues to evolve and become more accessible, the use of RFID technology will undoubtedly increase. From inventory management to livestock tracking, drones equipped with RFID readers can provide valuable insights and improve operational efficiency in a variety of applications.