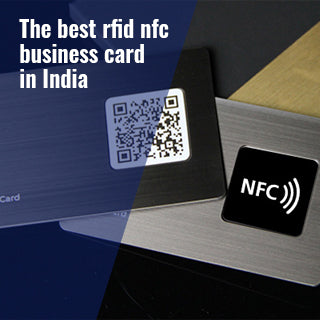 The Best RFID NFC Business card in India
We believe in the power of technology and the positive impact it can have on our customers. That's why we've partnered with Tag, an industry leader in card reader technology, to provide top-quality business cards that work seamlessly with any RFID NFC device or system. With a contactless-only design, combined with our proprietary print technology, you can feel confident about sharing your valuable contact information with potential clients.
An RFID NFC business card is a smart way to promote your business. These cards can be scanned by an RFID NFC reader, allowing you to share contact information with groups of people. They're easy to carry, so it's no surprise that they've become so popular.
 RFID NFC Business Cards are easy to set up, environmentally friendly and simple to use. They help you share your contact information with a single tap, so you can easily expand your network.
 Structure of RFID NFC Business Card :
QR Code : The NFC business Card is designed specially for the businesses and business professionals. It contains a unique QR Code with the contact info on it. The QR code lands automatically on your dashboard, so anyone who scans it can get the contact instantly. You just need to save this QR code in your phonebook and share it with your clients.
Name : Our users can get their first name and last name printed on the card. Users can choose to have the user's name or last name with designation printed on the public NFC cards.
Custom card : If you need a custom card in your business, we can print custom cards for you. The companies can get their unique design printed with logos and branding on it and give it to their employees to interact and make connections.
Profile photo : Profile Photos help you to stand out from the crowd. The profile picture is designed in such a way that it shows who you are and what your interests are. Even after you have changed your profile photo, your friends, colleagues and family members can instantly recognize you by looking at your new profile photo.
Email: Personal, Professional and Business Email is all about personal and professional email. There's a separate option for you to use your professional email in the same way as you would use any other business email account. You can find your professional email address in your preferences section. You will also have access to your personal email when you like as much as you can not configure it separately.
Contact No: You can enter your work contact number, what's app number, or personal number as per your preference in the card.
 Benefit of RFID NFC Business Card:
Staff Communication: RFID NFC tags allows employees to check in at their current locations and record time spent on the clock and time spent on break. Knowing where employees are is important for a manager to keep the store operating smoothly. As employees move on to new tasks, they can update what they've finished and where they're at.
Real Time Updates: Real time updates are vital in the fast paced business world. Tracking employees and reading updated notes from staff or managers can occur through the use of NFC. Managers can track employees instantly to provide more efficient scheduling throughout the day. If a customer needs help, all a manager has to do is wave her smartphone over an NFC tag with the relevant information to check who is in the department and free to help the customer.
Improved Customer Service: Whether you work at a large corporation, run a small business, or fund a non-profit organization, NFC technology has several benefits that can help you with time management, employee tracking, and customer satisfaction. As the technology grows, more merchants will find themselves moving toward NFC technology For completing their transactions.
 RFID NFC business cards are all the rage. With their ease of use, affordability, and eco-friendliness, it's no surprise that people are ditching paper business cards in favor of digital business cards. And an NFC business card is another emerging trend. While they can be costly and burdensome to carry with you all the time, an NFC tag can allow you to share your business card with a simple tap.
The RFID NFC Business Card is a wireless business card that works like the standard contactless payment method. The card enables ease of use for your customers.
Easy to use, the RFID NFC Business Card helps you to carry your digital business cards with you. It's quick and easy to share with your contacts - simply tap the card to a smartphone or reader in your company, office or building.