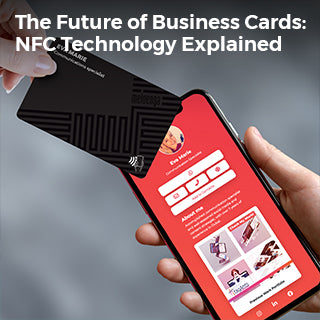 The Future of Business Cards: NFC Technology
In today's fast-paced and highly competitive business world, making a lasting impression is more critical than ever. With so many people vying for attention, it can be challenging to stand out from the crowd. But what if there was a way to make yourself unforgettable? What if you could exchange your contact information effortlessly while also impressing your potential clients or partners with innovative technology? That's where NFC business cards come in! In this blog post, we'll explore how these tiny yet game-changing tools are revolutionizing the way professionals' network and exchange contacts.
NFC business cards are essentially regular business cards with an embedded Near Field Communication (NFC) chip. This chip allows the card to be used like a contact-exchange tool. Instead of exchanging paper cards, users can simply tap their NFC-enabled smartphone or device against the card to quickly and securely share contact information. Not only is this process faster and more efficient than exchanging traditional cards, but it also gives off a modern and tech-savvy vibe that will leave your contacts impressed. And don't worry if you don't have an NFC-enabled device; most modern smartphones already include this technology.
By making it easier to exchange contact details, NFC business cards are becoming increasingly popular among professionals in all industries. Whether you're in sales, recruiting, marketing, or any other field, having an NFC business card puts you ahead of the competition and makes networking a breeze.
So if you're ready to make a lasting impression and stand out from the crowd, then consider investing in an NFC business card today!
Not only are NFC business cards more convenient and efficient than traditional paper cards, they also offer users a variety of other benefits. For starters, NFC business cards are incredibly durable. Unlike paper cards, they won't get wrinkled or torn in your wallet or pocket. Additionally, because you don't have to manually type in contact details every time you exchange information, NFC business cards can save you time and effort. Finally, these tiny tools provide a unique way to showcase your creativity and stand out from the crowd with custom designs and features like QR codes or interactive elements.
So if you're looking for an innovative way to network and exchange contact information that will leave a lasting impression on your contacts, then look no further than NFC business cards!