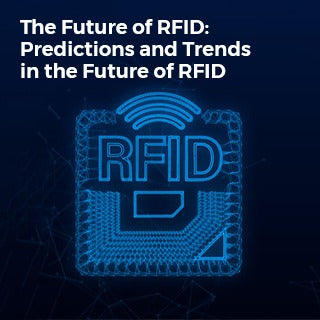 The Future of RFID: Predictions and Trends in the Future of RFID
As technology continues to evolve at an unprecedented pace, Radio Frequency Identification (RFID) is rapidly becoming a key player in the business world. The ability to track and identify products in real-time has revolutionized industries such as retail, logistics, and healthcare. But what does the future hold for RFID? In this post, we'll explore some of the predictions and trends that will shape the future of RFID technology. From improved inventory management to enhanced supply chain visibility, let's take a look at what's on the horizon for RFID.
Current State of RFID
RFID technology has come a long way in recent years, and its applications are now practically limitless. Businesses of all sizes are using RFID to track inventory, manage assets, and even monitor employee productivity. The possibilities for RFID are truly endless, and the technology is only getting more sophisticated. Here's a look at the current state of RFID and some predictions for its future:
Today, there are two main types of RFID tags: passive and active. Passive tags rely on an external power source (usually a reader) to activate them, while active tags have their own power source (usually a battery). Active tags are more expensive than passive tags, but they offer longer range and greater durability.
RFID readers come in a variety of shapes and sizes, from handheld devices to fixed readers that can be mounted on walls or ceilings. Read rates vary depending on the type of reader and tag being used, but most readers can read multiple tags simultaneously.
The current generation of RFID chips is capable of storing vast amounts of data, making them ideal for tracking complex information like product histories or supply chain data. In the future, RFID chips will become even more powerful and will be able to store even more data. This will enable businesses to track their products in real time and make better decisions about inventory levels and production schedules.
The cost of RFID hardware has fallen dramatically in recent years, making it affordable for even small businesses to deploy RFID
Predictions and Trends in the Future of RFID
the future of RFID is looking very promising. The technology is constantly evolving and becoming more sophisticated. Here are some predictions and trends to watch out for in the future of RFID:
Increased accuracy and precision: RFID tags will become more accurate and precise, making them even more useful for tracking inventory and assets.
More widespread adoption: RFID will become increasingly adopted by businesses and organizations of all types as the benefits of the technology become more well-known.
Greater interoperability: RFID tags from different manufacturers will become more compatible with each other, making it easier to use multiple types of tags in a single system.
Lower costs: The costs of RFID tags and systems will continue to drop, making the technology more affordable for everyone.
More sophisticated applications: RFID will be used for more than just tracking inventory and assets. The technology will be used for things like security, access control, anti-counterfeiting, and much more.
Security and Privacy Concerns with RFID
 RFID technology has been around for decades, but it has only recently become widely used in consumer products. This increase in usage has raised concerns about the security and privacy of RFID-enabled devices.
There are two main types of RFID tags: active and passive. Active tags have their own power source and can transmit their ID signal over long distances. Passive tags do not have their own power source and must be close to the reader in order to be read.
Most security and privacy concerns with RFID relate to passive tags. Because these tags do not have their own power source, they are much easier to hack than active tags. Hackers can intercept the signal from a passive tag and use it to track the tag's movements or even clone the tag's ID.
There are several ways to protect against these attacks, including using encryption, making tags tamper-resistant, and using "kill switches" that disable tags when they are not in use. Despite these measures, there is still a risk that someone could find a way to exploit an RFID system.
As more and more devices are equipped with RFID technology, it is important to be aware of the potential security and privacy risks. Taking steps to protect against these risks will help ensure that RFID remains a safe and secure technology for years to come.
Conclusion:
As we have seen, RFID technology has immense potential for the future. We can expect to see this technology being used in a range of applications from retail and healthcare to transportation and logistics. This means that companies need to stay up-to-date on the latest trends and predictions so they can prepare themselves for what is coming next. With the right strategies, businesses will be able to make use of these revolutionary technologies and gain an edge over their competitors.