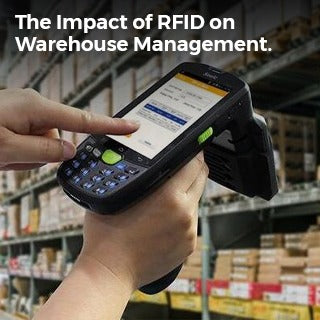 The Impact of RFID on Warehouse Management
Introduction:
Warehouse management plays a critical role in the success of any business, influencing factors such as inventory accuracy, order fulfillment, and overall operational efficiency. As technology continues to advance, one innovation making a significant impact is Radio Frequency Identification (RFID). In this blog post, we will explore the transformative effects of RFID on warehouse management and how it revolutionizes efficiency and accuracy in various aspects of operations.
Enhanced Inventory Visibility:
RFID technology enables real-time and automated tracking of inventory within the warehouse. Each item tagged with an RFID tag can be easily identified and located, providing accurate and up-to-date inventory visibility. With RFID, warehouse managers gain complete control and insight into stock levels, reducing the risk of stockouts, optimizing reorder points, and streamlining inventory management processes.
Improved Inventory Accuracy:
Traditional inventory management methods heavily rely on manual processes, which are prone to errors and time-consuming. RFID eliminates these challenges by automating data capture. RFID readers can quickly scan and identify multiple tagged items simultaneously, reducing human error and increasing inventory accuracy. This accuracy translates into reduced discrepancies, fewer stockouts, and improved order fulfillment rates.
Streamlined Receiving and Put-away Processes:
RFID simplifies and accelerates the receiving and put-away processes. As goods enter the warehouse, RFID tags can be scanned, automatically updating inventory systems and triggering the appropriate put-away locations. This streamlines the entire process, reduces manual paperwork, and ensures efficient utilization of storage space.
Efficient Order Picking:
Order picking is a labor-intensive and time-critical process. RFID technology significantly improves order picking efficiency by providing real-time visibility of item locations. Warehouse staff equipped with RFID handheld readers can quickly locate and identify items, reducing picking errors and increasing overall productivity.
Enhanced Asset Tracking:
RFID is not limited to tracking inventory alone. It can also be utilized for tracking and managing assets within the warehouse. Equipment, pallets, and other valuable assets can be tagged with RFID tags, enabling easy identification and tracking. This ensures optimal asset utilization, minimizes loss or theft, and streamlines maintenance schedules.
Increased Warehouse Security:
RFID technology improves warehouse security by providing a comprehensive tracking system. Unauthorized movements can be quickly detected as tagged items pass through RFID readers placed at strategic points. This enables warehouse managers to monitor and control access, ensuring the security and integrity of the facility.
Conclusion:
The impact of RFID on warehouse management is undeniable. By leveraging this technology, businesses can achieve unparalleled levels of efficiency and accuracy in their operations. Enhanced inventory visibility, improved accuracy, streamlined processes, and increased security are just a few of the advantages RFID brings to warehouse management. As technology continues to advance, embracing RFID becomes an imperative for businesses looking to stay competitive and optimize their warehouse operations for future success.